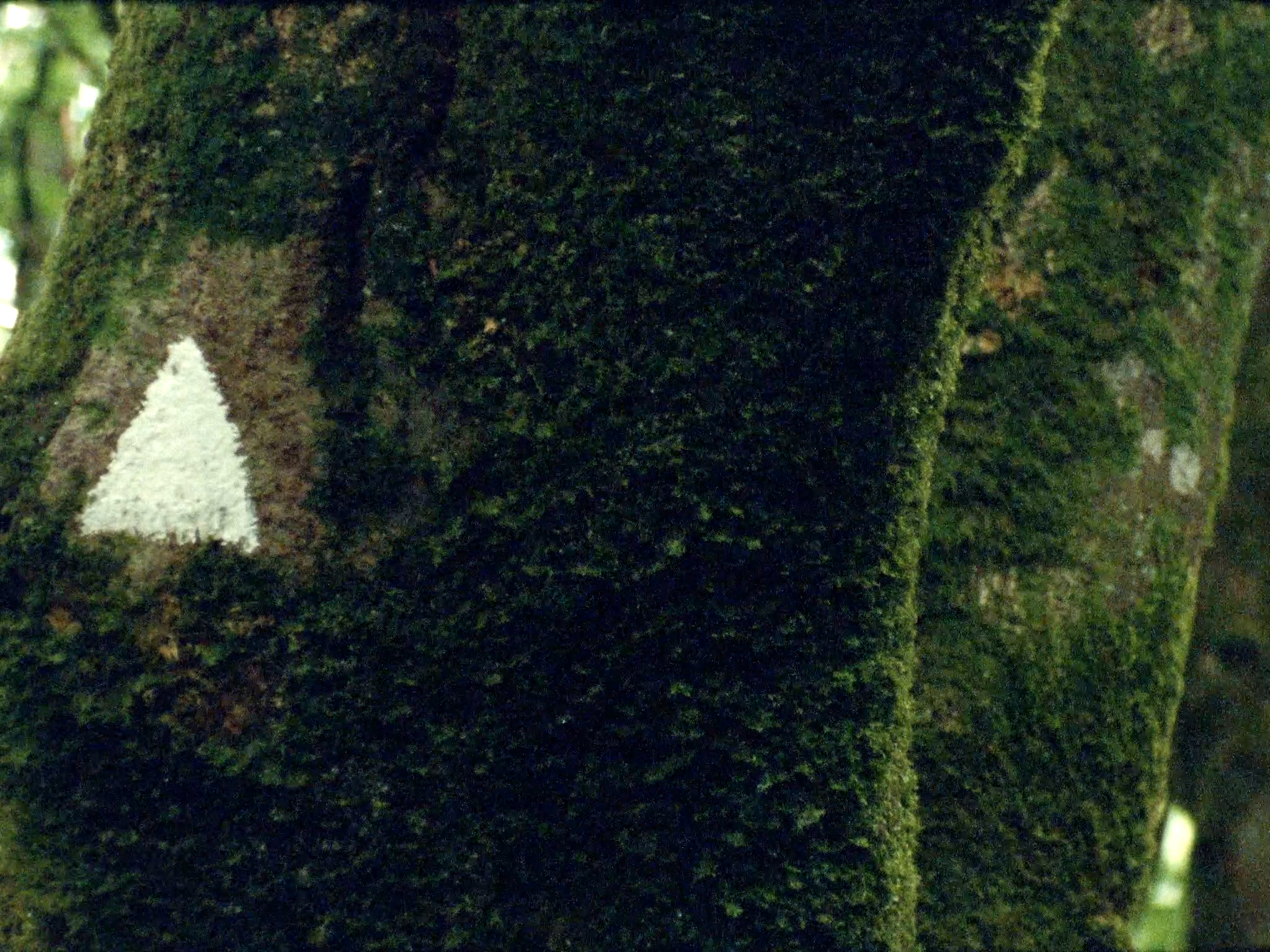 Bordered
In an unknown near future and recent past, a filmmaker is trying to retrace the steps of Silvia. "Who is Silvia? What is Silvia?" Silvia has gone missing. In this filmic reconstruction, Silvia drifts with the forest, attempting to attune to its temporalities and to bridge the supposedly opposing worldviews of 'Sequency and Simultaneity', of presence and duration.

Underneath the borders of the forest but also of science, the destructive powers of a proprietarian society only obey the laws of succession. Here, the socialist plans of the post-war era are being demolished and cleared for new and profitable housing.

But in Silvia's archive, city infrastructure and forest root systems are being integrated. Silvia's recordings are cut in intervals where time itself becomes unstable. Through a numbering system of repeating patterns, progression is broken. Silvia has abandoned the society of 'means to an end'. In this gesture lies a path to un-build the walls that have infiltrated all aspects of this world.

I filmen er der tekstuddrag fra Ursula K. Le Guins 'The Author of the Acacia Seeds and Other Extracts from the Journal of the Association of Therolinguistics' og 'The Dispossessed' (1974), Walter Benjamin 'Painting, or Signs and Marks' (1917), Una Canger 'What the Eye Sees' (1986). Der er desuden print, fotografier, tegninger og arkitektoniske planer fra blandt andre Florence Henri, Lotte Stam-Beese, Alma Buscher og Silvia.
Vi er vant til at tænke på træer og planter som statiske væsener.
De plantes i jorden og bliver, hvor de er. Men træer og planter bevæger sig. De er nomadiske vandrere på kloden, og de kan flytte sig både med og uden menneskelig indblanding.

I 'Bordered' undersøger kunstner Pia Rönicke forestillingen om skoven som noget, der driver på egen hånd. For skoven er et dynamisk sted, der kan flytte sig over generationer. I feltoptagelser fra tolv danske skove foretager Rönicke en meditativ undersøgelse af de frigørende muligheder, der ligger i at se på skoven som et balanceret system med en egen energi.

For skoven har sin egen måde og kommunikere på, sit eget "sprog", der består i et underjordisk netværk, der forbinder træerne med hinanden. Og hvad nu, hvis vi vender blikket om og ser på skoven som noget, mennesker kan lære af at studere?

'Bordered' er en sanseligt indtagende refleksion over, hvilken historie der gemmer sig bag skoven – og ikke mindst over hvor naturen stopper, og mennesket begynder.

Pia Rönicke er en dansk billedkunstner uddannet ved Det Kongelige Danske Kunstakademi og California Institute of the Arts. Hun bor og arbejder i København.